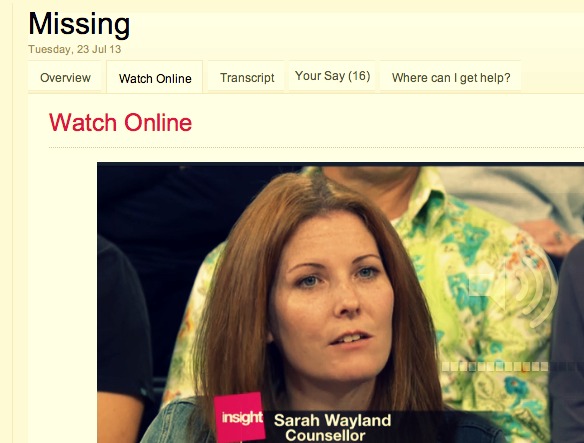 When you think of Social Work you don't often factor in the potential media opportunities that might come from that career. Back in 2004, after securing a job with a State Government organisation, I received my first call from my media spokesperson. He talked me through what the media story was about and gave me tips for answering questions that wouldn't risk my professional position or the families who had come to see me. I took the call from a journalist – a nice sounding woman from a National newspaper – she wanted my thoughts on the disappearance of an elderly woman in suburban Sydney, a UK expat, who had walked away from her home. I didn't know the family but I was happy to explore the general experiences of being left behind to provide some foundation for the raw words shared by the woman's daughter. That weekend as I saw the story, with the accompanying image of her daughters waiting and hoping and my name just underneath was both surreal and validating – it told the story from all angles. I felt like it had been a good use of my time. As the years went on the media requests kept coming – TV, radio, print, speaking engagements, conferences – part of me enjoyed the opportunity to share what I was learning in my job as well as not compromising the privacy and confidentiality of the people who reached out to me for support. Radio interviews are still my favourite things to do – the anonymity of just voices allows me to speak and speak without worrying about lipstick on my teeth. Sitting on the other side of the fence for the last few years – as a freelance writer – I've noticed two things. The experts provide clarity to complex news stories but there can be difficulty in getting exactly what you need to make your editor, and eventually the intended audience, happy.
So what are my top tips for Allied Health Professionals keen to make a name for themselves in mainstream media?
1. Media training! I've been lucky to attend a few courses with Law Enforcement agencies about navigating the media. It has helped me manage my nerves, understand what is required from the other side of the microphone and has saved me from accidentally saying too much a few times. If your organisation doesn't offer training check out other places that do.
2. If a journalist or writer contacts you clarify the intended aim of the article. This prevents you from being caught out mid sentence if the piece is taking a sensationalist angle or really doesn't fit with what you originally presumed it to be.
3. Learn to repeat the question within the answer to give the journo a complete quote. If someone asks you 'So what is the common experience for people living with depression?' starting off with 'feelings of apathy, of low mood might happen' makes it hard for your quote to be incorporated into a story. Start with 'People living with depression often speak of…' and weave your words from there. It makes the piece easier to write and it makes you sound like you can string a clear and clever sentence together.
4. If the topic area sits outside your area of expertise or you believe someone else might be in a better position to answer the query then pass it on. Some days, when I'm deeply immersed in my research and I receive a call about a current missing persons case, I pass journalists onto my colleagues still working on the frontline. Don't be greedy when it comes to media – there is plenty to go around.
5. If you reply to a query for a comment follow through! Journalists work on short deadlines – if you can't be available by phone suggest they send an email with their questions. Flexibility can be the key to a sustainable position as an expert.
6. You might not get the see the final version of the story before it is submitted to a publication – that's standard practice for many writers. If you are concerned about the way your words have been used ask to see just your section or at the very least raise your concerns post interview.
7. Ensure that you are clear about your full name, title and workplace (if relevant). It's no use getting some media exposure if your details are incorrect!
8. If you work within an organisation check with the media advisor or HR director before speaking to anyone – too many careers have been unraveled by opening your mouth too soon. Conversely don't fear the media – some great stories and accompanying community awareness have developed out of partnerships between journalists and their experts.
9. If you are not comfortable answering a question just say so…or ask the journalist to reframe.
10. Have fun! Speaking about the work you've dedicated long hours to can be both validating and affirming. Focus less on what might come from the interview and more on the skills you might develop in being your own PR person. Working with individuals and groups can be isolating  – talking to the media about what you know and what you've learnt can be a little win amidst the chaos.
What would you add? As a writer or an expert?
(For those wanting to raise their profile think about adding your details here or here.)