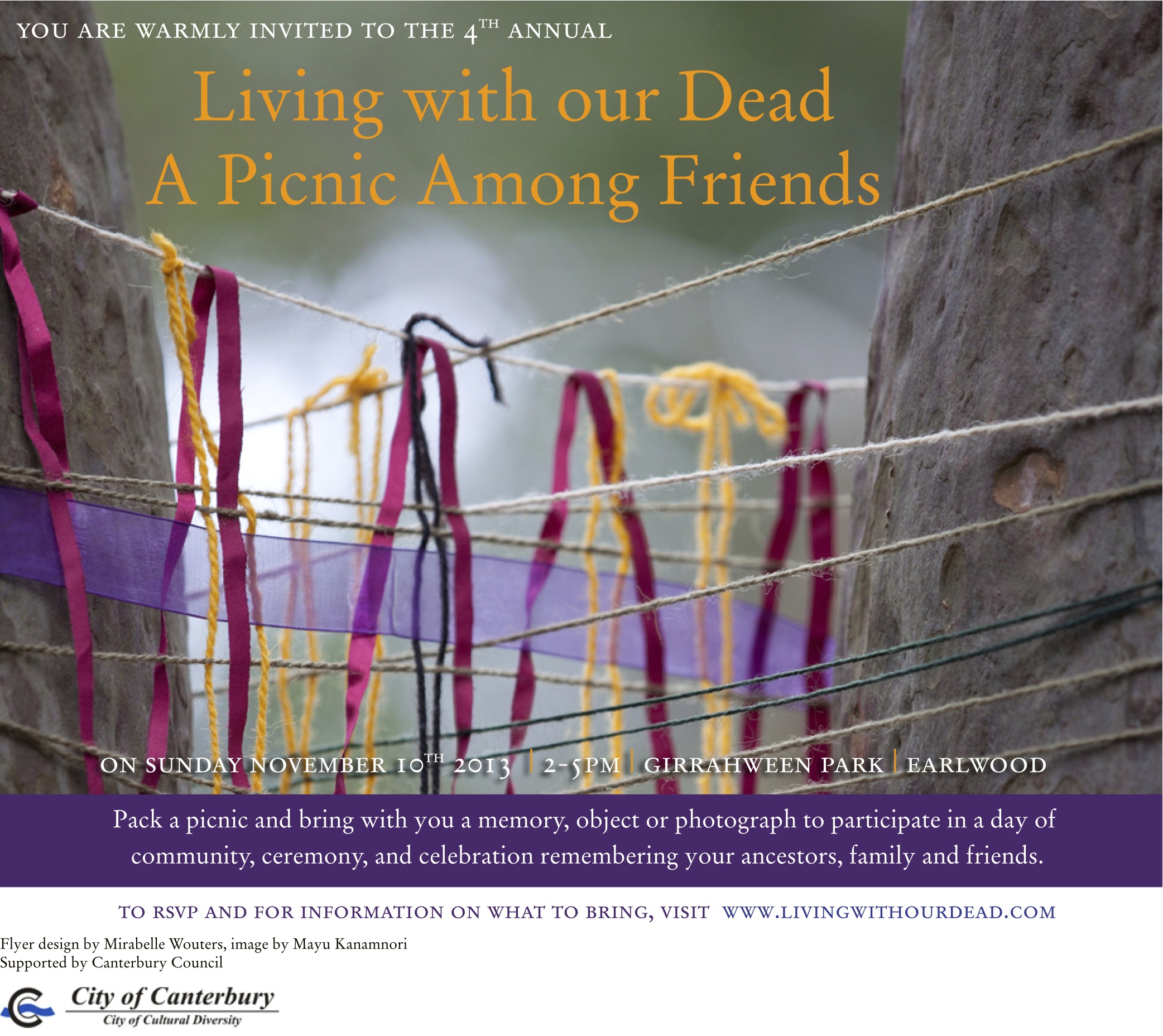 A couple of years ago I stumbled across a lovely article in the Herald about a woman. A creative woman called Victoria Spence who was exploring new ways to acknowledge loss. I emailed her. We chatted, and this month (fingers crossed – our children have lovely ways of falling ill the days we put aside to catch up for coffee) we will meet in real life.
This Sunday Victoria is hosting an event in Sydney. Here she tells me about her, about the event and about her thoughts in general. Make a cup of tea and have a read.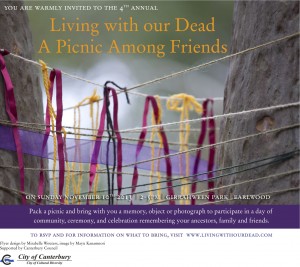 Victoria, tell me a little about you? I am a Life Rites specialist, which means, I work with people, families and communities, as they approach the significant events of their lives (as defined by them). I work with all the Rites of Passage from birth through to death. My abiding passion and primary focus for the last decade or so, has been on 'integrating end of life and after death care'.
This means, creating literacy with people who are coming to the end of their life and supporting their families through this transition in my roles as support worker in collaboration with palliative care services, civil celebrant and with ongoing with bereavement and 'life passage work'.
I also work as a civil celebrant, one on one ceremonial counselor and artist.
Where did the idea come about for a picnic to acknowledge a space where we live with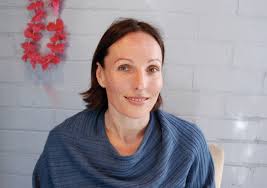 our dead?  The idea developed over many years, early on in my practice when I was working as a civil funeral celebrant and so many people – my clients and others who I would speak to, were not 'held' by their mourning rites; the 35 mins at the local crematorium created in a quick turn around of 3 days was leaving people as dazed and confused as they were when they experienced the death of their significant person.
It became clear that as a community we needed to increase our death literacy and that involved learning again how to remember our dead. And to do so in a way that was simple, everyday, grounded and real in which people had the choice to engage their own creativity and aesthetics in how they did this.
It was also vital that we created inter-generational spaces for kids, dogs, families, neighbors, our elders, etc to meet.
A natural setting and a picnic seemed perfect. In fact as I was thinking about this, the phrase' a picnic among friends' came to me and I just knew it was right.
That viewing our dead, those we knew and have experienced the loss of as well as our ancestors as our 'friends' seemed a gentle entry and invitation for people to build up their 'mortality muscle' and come along to remember and also to take that rich and simple experience out into their lives and perhaps be buoyed by it when they met death in their lives or the lives of their friends.
Do people in the wider community look at you funny when you tell them what you do?
Well, yes.
Mostly these days I begin to explain what I do by saying I am a Life Rites Consultant and Counselor which leads to the conversation on to my focus on death literacy and the transition from end of life to after death care. We get there after I have drawn the bigger picture of working with people across all the significant events of their lives, from birth to death.
This way, the entry into the conversations about dying and death is in context as a part of life. This seems to open out many possibilities that weren't present when I first started to learn how to talk about what I did in a way that engaged people.
When I first started (12 yes ago) I was a passionate death focused individual and I would certainly lead in with the pointy end of my work which would most often close down the conversation pretty quickly.
Except if people had experienced death, grief and loss, then they were SO grateful to have a frank and real conversation with someone who was interested in their experience. Then our conversations would be unstoppable!
A participant in a group I ran the other week mentioned that sex used to be the last taboo but they feel that talking about death – both our own mortality and the space that's created when we lose a loved one – is hidden. What do you think the benefits are of talking up about the stories of our lives and loss? 
Well, I think that the social and (Anglo) cultural taboo about speaking of death is lessening. In this widening of the spaces in which we can speak, we find ourselves as individuals, families and communities without the literacy to be able to do so. We have to recreate the context and language with which we can begin conversations about death in our everyday lives.
Personal and individualized death talk is allowed in clearly defined spaces and times – attached to diagnosis,  illness and the funeral industry.
There is still an enormous amount of fear and trepidation about speaking directly to death – ours or those we love.  It seems vital that people who are living with someone who is dying, or living with loss and grief, need to have the reality of their lives acknowledged and met before they can engage in conversations that aren't speaking to these elements of their lives.
In a way, talking about what's important to us in our lives and how we honor and reflect this will begin to build up what I call our 'mortality muscles'. So I think the benefits of having the requisite language, lexicon and vocabulary to speak about these key events, to name them and use language to convey the saturated emotional spaces people inhabit, he shared uncertainty of such times, allows people first and foremost to honor their own experience and crate the appropriate context around it.
So that it can be seen and felt by them in its fullness with all the maturity, wisdom and compassion that is available to us when we authentically meet our lives.
And it breaks down the sense of isolation and having to keep this massive life event, and its changes in how we live and see the world, in a personal and interior frame. So the more we can communicate the depth of our experience, the more chance we have of being met in it.
What have you learnt along the way? Finding ways to be in proximity to the inevitable completion of our lives, as well as those that we will bear witness to, has in my experience, enriched the quality of my life immeasurable.
I know I will die and this has given me a solid and useful place form which to know what's important to me and in how I choose to live.
Knowing our own mortality has the opportunity to become the most supportive operating principle of our lives.
There is a richness waiting for us if we can develop our abilities to meet ourselves in these places of vulnerability.
—————
Victoria's words read like a song dont they? They speak of openness, of embracing the capacity to be vulnerable, to be seen by those around us and to invite the people we have lost back in to the space.
Early on in my career in trauma services I attended a 5 day workshop with Michael White and I remember reading his piece on 'saying hello again' to people we have lost. When I returned to my counselling space and invited the person who was lost back into the conversation, offering the chance for the person sitting across from me to talk about who they lost not how they lost them it was both simple AND powerful. It transformed the way we spoke.
If you'd like to attend the picnic this Sunday you can find more details here. 
Do we think we are 'death literate' in our society?