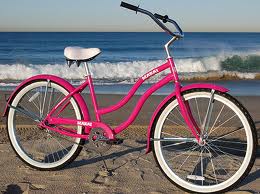 February 29, 2012
—
Sarah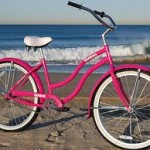 Fantasy isn't all its cracked up to be. I was reading Fenella Soutter's piece in the Good Weekend about the freedom of bike riding…Ive been eyeing one of these bikes for a while but I know in the deep dark recesses of my brain the image of what Ill look like riding it wont match with the floaty, whimsical one I have in my head.
12 years ago I packed up all my worldly possessions and took off in a van with a man and a dog (I knew both of them…dont panic). We headed north for a few months and then settled in Far North Queensland…it wasnt the plan but I think we were both over living in such a confined space eating baked beans and tuna. We used to say to each other 'if our relationship can survive this we can survive anything'. Note to self, not true.
After finding some jobs we found a little share house to live in, high on stilts and full of an odd little mix of characters. There was one very special guy from Canada who used to walk out of the bathroom and leave his shorts behind. I wonder whatever happened to him and his shorts?
One of the perks of the house was that there were bicycles for everyone to share to get to town and back. I immediately thought that this could be the making of me, I was in a town where no one knew me, they didnt know that bike riding was not my strongest skill and they didnt know that I came from a family where coordination had skipped a generation. I imagined jumping on the bike, leisurely riding into town along the water and noticing parts of life I hadn't noticed before.
The reality was a little different.
For starters the bike was older than the hills, it was rusty, creaky and the helmet…wait for it…was just a polystyrene mould…couple that with the hot humid weather, hair prone to frizziness, the wet season and the bugs – so many bugs. I looked a little more like  a crazed, beetroot faced loon riding down the streets than the flowing creation Id seen in my mind. I wanted to behave like a 2 year old and scream and throw the bike into the gutter. But I persisted because of that silly image in my mind. One particularly horrendous day I wore some long pants I picked up at a local market, only to discover why people tuck them in their socks when riding. Lets just say Pants 0 Bike Chain 1.
Each year when we head back to Queensland with the kids I watch the local gals ride their bikes along the beachfront with a mixture of jealousy and admiration. They look like the images in my mind, they look calm, relaxed and tanned. Thats the thing about the space between your mind and your ability. You can spend a lot of time wanting to be someone else but a decade on from that polysterene helmet Im beginning to be grateful for realising that life is about trying things, finding out you're crap at them and moving on. Im much better at a slow meander with my kids in tow…no fancy bike could do that for me.
When did you have to admit that what you wanted to be just wasn't going to happen?