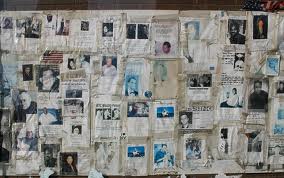 For the last two and a half years Ive been knee deep in journal articles, academic ponderings and large books. Those large books double as platforms for your Mac so that when on Skype people look at your face, not up your nose. There isn't a great deal of literature about the experience of loss for the families left behind when someone is missing. In searching for the 20000 words that made up my literature review chapter – which has lovingly been re-written 7 times – I had to think outside the box. I looked at mass casualty events where people's whereabouts were unknown – like an earthquake in China, like The Disappeared in Argentina and all those people who happened to be in the twin towers 12 years ago today.
Some of the work done in recording the reactions of those who searched and the ones that waited isnt just applicable to the experience of other families of the missing but for everyday life in understanding the connections we hold with others.
So today, in honour of a friend who was lost on that day, I've shared the lines that touched me from the texts I've read and re-read since starting of this long research journey because as Arthur W. Frank says stories animate human life: that is their work.
'The photographs of the missing are a precious remnant, a trace, a proof that the person exists'. THIS is a person, a missing person, they proclaim', Edkins (2011)

The posters were employed, they remind us that, in tragic circumstances, every living survivor has a duty to the missing to remain hopeful and exhaust the search. Jones, Zagacki and Lewis (2007)

'Perhaps the persistence of the posters was like a collective scream, an open wound, a refusal to close over the trauma of loss'. Edkins (2011)

"I don't want his remains to be identified. it's going to open up another door for me. I know he's gone but i just think of him being in New York City, running around and having a good time and he just hasn't called me yet, that's all" (mum of a missing son. Vogel, 2003)

'There are no bodies to insist that these people once lived, only their pictures. These pictures assert, like those alongside the Madres of the Plaza de Mayo: "They took them away alive, we want them back alive". (Edkins, 2011)
Through the media we often become bystanders on the kerbside of other peoples traumas.  It is normal to buy in to the collective hope of a good result, of an answer that minimises another's pain. In collecting the stories of those that placed posters around the city that day academics were able to reanimate, if only for a short time, the lives of those that were lost and the agony of waiting for those left behind.
A worthy cause indeed.
What were your recollections of the day?