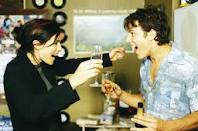 September 13, 2011
—
Sarah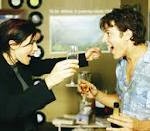 I had to drive a really long distance by myself this week, six long hours of winding roads, variable speed limits, random country signs and my ipod.
About 6 years ago I was going through a bit of a quarter life crisis ( read: divorce…). It was one of those times in your life when you expect that the people you know will effortlessly fall around you but in reality some tended to melt away and new, amazingly wonderful people filled the void.
One of my safety nets was a gal I had met at work the year before…while I was on maternity leave she had sent me a birthday email, which in the grand scheme of things isnt that amazing but I was having one of those days when a random act of kindness made me see a bit more sunshine than I had allowed myself too. I confided in her about what had been happening in my life and in return she told me what she liked to do when it was all too much….she pretended she was a character on The Secret Life of Us, she suggested that I imagine that a film crew was following me and that there was some type of music in the background that accompanied me on my way, like my life was part of some delicious TV show…so thats what I did.
When I was on the bus on the way to work each morning, I'd sit a little taller, I'd force a spring into my step and I'd listen to my ipod filling myself with tunes that legitimately could be played in the background of that fancy pants, 20 something TV show where people were living life, falling in love, falling out of love and playing soccer in a park in St Kilda (OK maybe the last one was a little far fetched for me – Im hand-eye coordination challenged). But the idea was that in using music a person could be taken away from what that are living through and can help get us through those speed bumps in the day – it worked for me some days and it also made me really wish I was Claudia Karvan on others.
So whats the soundtrack for your life? Can music (and a bit of delusional behaviour) help make the challenging times a little easier…can singing at the top of your lungs to Adele really fix things (I may have done this on my long drive…my throat is still sore).