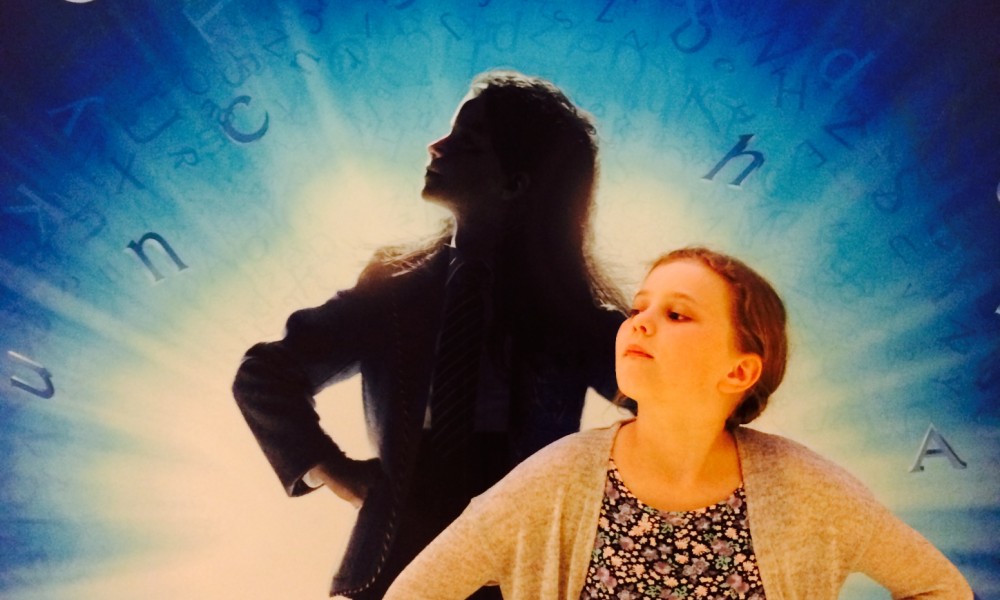 'And when I grow up
I will eat sweets every day
on the way to work and I
will go to bed late every night!' 
We sat there. The three of us, arms intertwined  – four rows from the front this past Friday night. I never seem to learn from stress. Each time we arrange to be somewhere in the city on a Friday night I find myself losing my shit trying to get myself dressed, the kids out the door, the dog fed, battle the Sydney pre-weekend traffic to be able to meet my husband with 32 seconds to spare. I begrudge the fact that sometimes, on some days, all he has to look after is himself. But this time we made it in time to sample the worlds best gelato, wander around the theatre looking at the merchandise and wave hello to school friends who miraculously were there the same night as us. Blessed.
I'm a sucker for musical theatre, they pull me in every time. I have to stop myself from singing aloud, from crying at those moments where some words touch your heart, but mostly from the big swell of emotion that comes from feeling blessed. Blessed to be able to afford a night out with one or all of my babies, blessed to be able to listen to songs where they scrape at the scabs still present from past wounds, blessed to be in a place and time where its all fitting together. I won't say 'for now' because feeling blessed isn't about bracing for whats to come but for how it is. Right here, right now (cue Fat Boy Slim).
My sister was two years ahead of me at school, I remember distinctly planning that when she moved across the road to High school I would be able to eat as many iceblocks as I wanted from the canteen, without her reporting back to my mum. I remember thinking 'when Im a mum…' Ill let my daughter dress is whatever clothes she wants, and if she wants to pop a bobby pin holding up one side of her hair and letting the other casually fall across her eyes, well that would be OK too. Clearly I had big goals when it came to ideas of when I grow up.
As my daughter, who is almost double digits, got ready on Friday afternoon (while I wrangled her brother in to his pyjamas to be delivered to my dads house and the bigger girls opted to stay with their mum) she came out with a few outfit suggestions. I let her wear what she wanted – a summery dress, some tights, her converse sneakers. I insisted on the cardigan to keep her warm given that, hey, it was winter. She asked for some help with her hair. A side plait with a large portion of a newly fashioned fringe that casually hung limp by the side of her face. I laughed to myself that she was a mini version of me. The fringe swayed from side to side through the night as she watched Matilda stomp across the stage – where she told her own stories to Miss Phelps the librarian, while she struggled with the space between the reality of her family and how she wanted others to see her. How the pain of Miss Honey's disconnection from her own Dad, shaped her life and grew her in to a compassionate soul who would eventually rescue Matilda after Matilda rescued her.
The thing is there are stories everywhere you look, not just on the stages or books in front of us. I leapt up at the end of the show, madly clapping the little girl whose professional debut had taken place right before us. I imagined if I was her mum how struck I would be by a small persons capacity to portray life, loss and all the spaces in between. The way I feel when my babies grow more in to who they are meant to be. The stories don't stop there, they come to visit me while I brush my girls hair, when I tuck my boy in to bed, when I watch my step-daughter dance, when I see the other standing next to her art work. They come when I hear lyrics about how we view growing up when we still have so much more to do and they come from glancing sideways at my husband who stepped up when others stepped down.
Blessed.
Go see Matilda, its good for the soul.