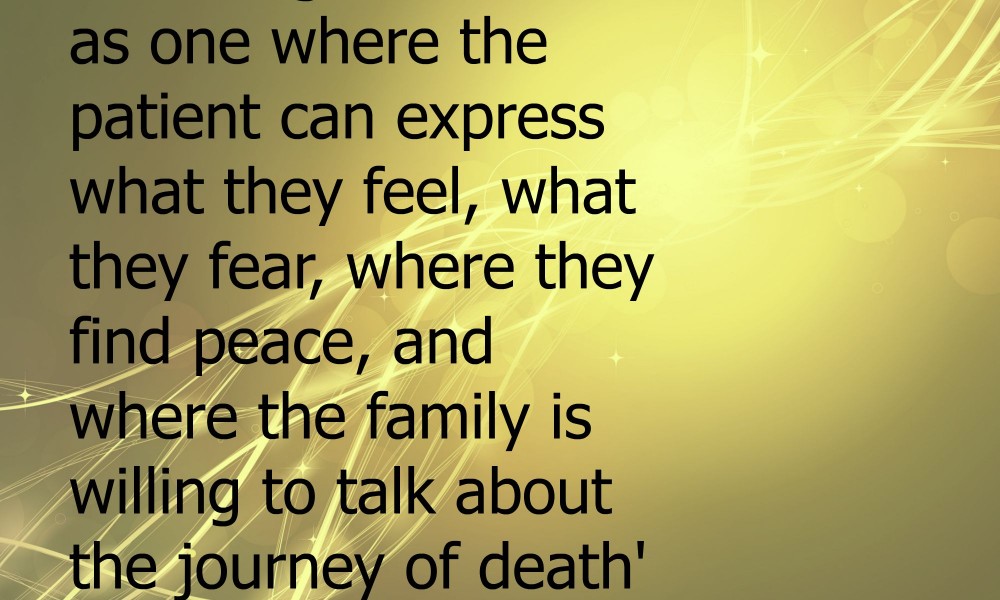 August 8 is Dying to know day – whilst I work as a missing persons researcher, the ambiguity of that loss means that we talk very little about the concept of a 'good' death because so much remains unknown. Those conversations, the ones where peoples rights are respected, where the journey is as soft and as stress free as possible provides people with a hand to hold if thats what they want.
So rather than me waffle about what I know (given its National Missing Persons Week here in Australia there has been a significant amount of words shared) I handed the mic over to my good friend Nari. A warrior woman with a smile that lights up the room, a knack at humming to herself so you always hear her approaching and a person who walks gently alongside many in her job as they explore what a good death might look like.
Have a read of her words…
Nari, tell me a little about you?
I'm a registered nurse in a coronary care unit. I see a lot of different kinds of patients, but my perspective on death and dying comes mostly from my experience with older patients.
Working in a health care setting how have your perspectives on death and dying shifted since you started working? Did the old Nari view end of life care in the same way she does now? 
I've found the beauty in death and dying, especially for older people. I believe it's a privilege to be there for a person in their last moments, and to be involved in this intensely emotional time for a person and their loved ones.
I've learned that our reactions to death and dying can help to provide a safe and comforting environment for a person and their family. We can choose to shy away from speaking about death and dying, or embrace it for what it is. I think if we embrace each person's perspective on death, and allow everyone a safe place for their thoughts and feelings, we can provide an environment that is dignified for all.
I think the old Nari thought death was just a sad and frightening time, but now I see the beauty of the journey. It is a time when emotions are heightened, the sadness, the fear, the love and the joy of the memories, and the relief……it can be complex. I've learned that it's also the little things, like ensuring the room is tidy, and the flowers are displayed nicely, and the person's hair is combed that can bring a small bit of joy to a family, and shows that we honour a person who is dying.
What do you see as a 'good death?'
Each death is unique, but a good death, I think, is when a person's wishes are expressed and carried out, when they have the support both emotionally and spiritually (if they feel that necessary), when they are relatively free from pain, and when they are cared for and supported in a dignified way.
I see a good death as one where the patient can express what they feel, what they fear, where they find peace, and where the family is willing to talk about the journey of death. 
You've spent time with people in their last moments. What are people seeking and how do you see your role in helping them along the journey?
I look after a lot of older people who are often ready to die. They feel they have lived a good life, and they've had their time. Families often struggle with the idea that their beloved might die, and want them to fight for their life. I hear family members say 'come on, you can get through this' so many times. They'll often try and force their beloved to eat, and they'll talk about what they'll do when they're out of hospital. Sometimes this is appropriate. But when a person is ready to go, both emotionally and physically, when their body is shutting down, sometimes what they need from family members is permission to die, for them to say that it is alright, so that they can go in peace. 
They want emotional and often spiritual support, and my role is to make sure this is provided. It can involve long conversations with family members, many who have never had these discussions before. They are often in shock or denial, and I see it as my role to help them through this time, and to guide them in how they can support their family member.
I encourage families to get involved with care of their beloved, with simple things like massaging their hands, or putting lip balm on their lips. I encourage family members to look after themselves as well, as it is an exhausting, emotional time.
Those facing death want to be treated with dignity and respect, not just as a patient, but as a person who has lived a good life. Visitors often don't know what to say, but I love it when family members bring up all the old stories, and have a good yarn, and a laugh. The sparkles in their eyes, and the joy in their faces is beautiful, and stays with me.
At the end of each shift, I take home the huge amount of love people have for each other. We're all vulnerable, we all have our differences, and we'll all face death at some point. We need to show each other that love right to the end, and rejoice in that love. 
If there were money for a large-scale community education campaign about end of life care what would you want the message to be?
I would want to encourage people to talk about their end of life wishes, to talk to as many family members as possible about these wishes, including all children if possible. I would highly recommend putting an advanced care directive in place.
Too often, siblings fight over end of life care for their parent, making it difficult and confusing for all. Everyone one has different ideas of how long treatment should last, if a person should stay in hospital or go home. There are drugs and interventions that can help a person live longer, and people end up in acute care hospital wards. Sometimes health care professionals have an obsession with curing a patient. A person doesn't always want these things.
I would encourage everyone to be an advocate for their loved one, to provide a safe place for them to talk about death and dying, and accept their loved ones wishes. It is hard to lose someone you love, but it is a gift to your loved one to let them die as they wish.
Have a discussion about these issues, so your loved one has some control in their final moments in life.
See? Having a tribe of like-minded individuals allows you to learn about the rich tapestry of life. If I hadn't connected with Nari when our girls started kindy together she would have just been another busy mum racing in and out of the playground. I wouldn't have known that the world she lives in could teach me so much about letting go of fear and seeing beauty in being part of the end of a persons life. We speak so much about the cradle of life yet the final stage, the grave, remains taboo.
What allows you to speak or not speak about death?
(and thanks Nari, I don't often ask my friends to be interviewed but I knew Nari would step up – she values good conversations like I do)