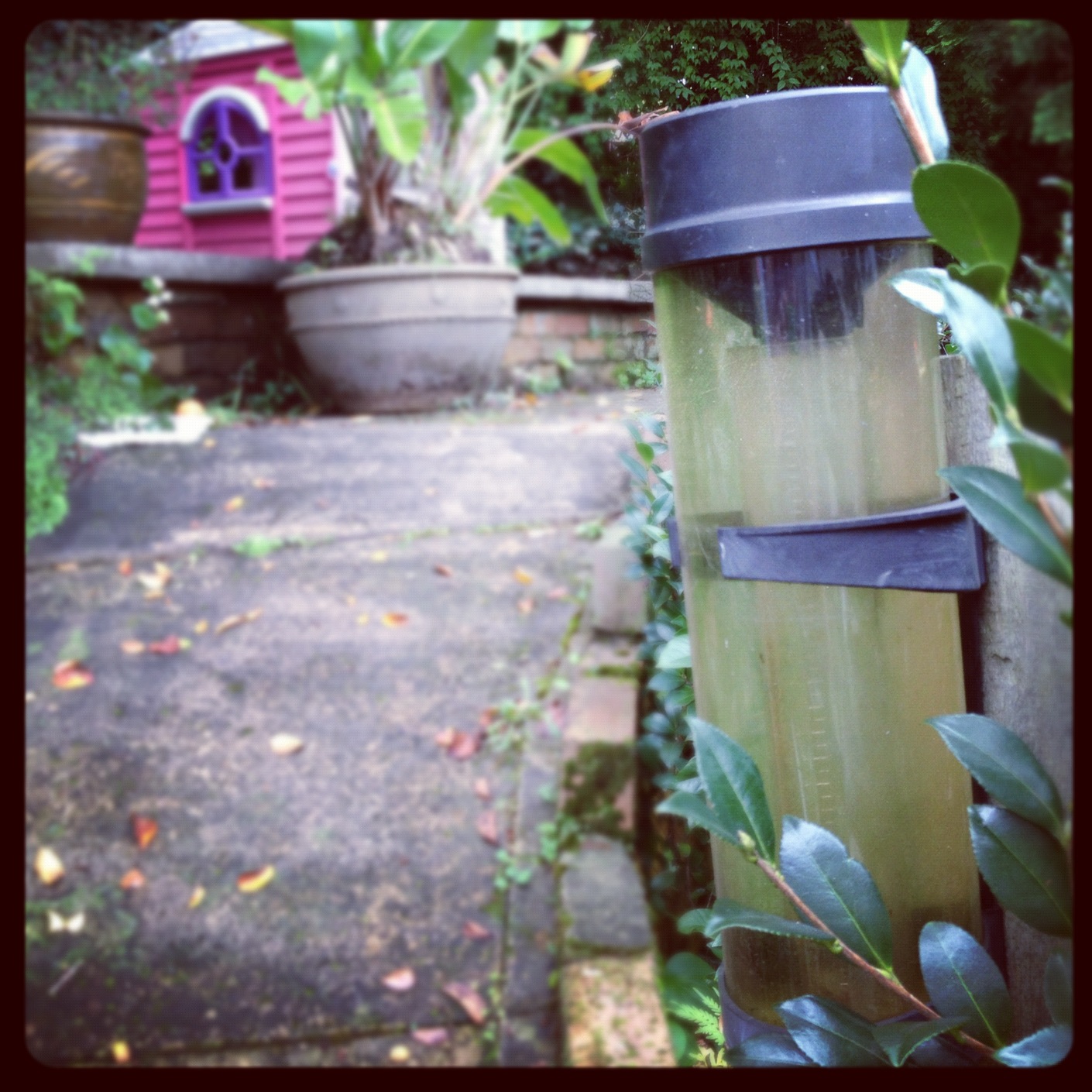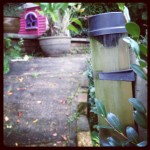 I was listening to a program on Radio National this morning about solitude (its fab, listen here). I was listening while in the garage trying to run  trying is the operative word on the treadmill and wondering if all the cards I had thrown in the air lately where going to land in the configuration I wanted.
As I stepped through the puddles in the backyard on the way to the backdoor my eye caught a little pink bucket in the middle of the lawn full of water. When I first met my husband he and I had become accustomed to the solitude of sole parenting. We both had our little behaviours that we had honed in separate houses once the small people were finally in bed. One of his was his rain gauge…it had its pride of place in the backyard, attached to a large stake in the ground – it looked like a test-tube within a bucket making it easier to capture the showers and downpours. Im sure thats not a very scientific explanation of a rain gauge? He would record the rainfall figures on a spreadsheet and then use it in conversations when he was stuck for something to say we got 8 ml last night he'd mention with his hands stuffed in his pockets.
One of my favourite Sex in the City episodes was the one where the girls shared their secret single behaviours…the things we do when no one can catch us, no one can ask why we are doing something that usually looks peculiar to the outside world. When Im alone I love popping my babes into bed, making a big bowl of cereal and lying on the lounge with a big mink blanket and watching complete series of the Gilmore girls…could life get any better? Im not sure if that is a rhetorical question or asked with a hint of sarcasm.
Some of us are great at solitude, we crave it, we look for opportunities for aloneness. But for others that aloneness presents as loneliness and the hours stretch ahead with a dismal gloom that only lifts when they are safely in the company of others.
I tipped out that bucket as I wandered into the house. I looked over at the rain gauge full of moss, its figures had stop being recorded long ago. Thats the thing about the behaviours of our solitude, they change and you find that for some (well for us) being alone together is the new secret single behaviour we crave.
Do you love solitude? What your secret single behaviour?