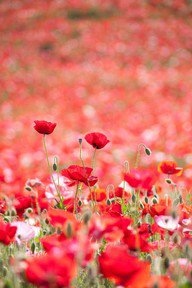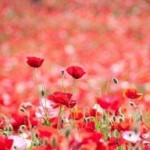 Todays is remembrance day…in honour of the day im sharing with you a poem written by my sister about my own Poppy who was born in November….feeling very grateful to have such a talented and expressive sister (and one that brings me coffee)
"In Flanders Fields the poppies blow 
Between the crosses, row on row"
spreading crimson faith
across the battlefields.
A blooming symbol silencing gunfire
regenerating remembrance for the universal sacrifice
and the futility of war.
November
marks the cessation of devastation –
Red poppies drench lapels
Adorn memorials
Silently observe our involvement in wars
half a world
away.
Now, 
November
marks a fresh entry in a family's history –
the birth of a new breed of Poppy.
Bursting into life
with an intensity of colour
Saturating the souls of loved ones
and perfuming stale existences to create
new beginnings
and
re-write past chapters.
On the day of her Baptism
She is an emblem of love.
Cherished by her Godmother
who stands proudly at her side
inhaling
Her blue eyes
Her placid disposition
Her enduring smile
A Poppy's fragility can be deceiving
As her strength lies beneath the soil line.
An intricate root system
Stemming from her mother's quenching spirit –
Maternal wisdom and courage that fertilises
Our Poppy
And invigorates our reality
Reminding us
of how blessed we are
to have her flower
in our lifetime.
c: N. Wayland 2006