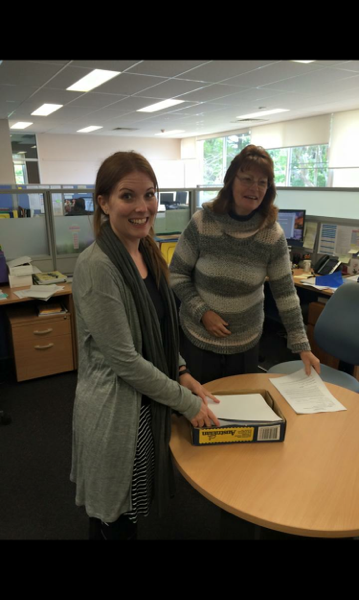 It was between morning tea and the second lecture of the day that I raced across campus to the printer. The morning I had asked the kind man to triple check my USB. I needed to make sure that the final, final, final version of the thesis was the one being turned into three bound copies for my PhD examiners. He looked at me in that way, you know where his head was screaming 'trust me lady!' and his mouth was saying 'happy to look again and make sure'. God bless the calm ones.
Two of my three supervisors walked with me that afternoon to hand it in. It was raining and windy (which it usually is in Armidale) I stood huddled under the awning near the Lamble building as my other supervisor came running across from the top of campus. I'd text her an hour before and asked her if she'd walk with me to submit it, like always, she responded with an enthusiastic 'yes!'
There wasn't any streamers or balloons to greet me at the Higher Degree
research office. There was time again to double check the copies, make sure all the forms had been signed and then I pushed it across the desk.
That was it.
Then I walked outside, hugged both of my supervisors, had a cry in the loo on the phone to my husband and went back to work. Nothing like 27 months of writing to find yourself lecturing on adolesence and social development five minutes later. I was like the printer man. My head and mouth disconnected. Yelling one thing and saying another.
A year on from that auspicious date (and 6 months post graduation) I still haven't gotten around to the final binding of my thesis, Ive written a few papers, Ive spoken at a handful of conferences and tomorrow Im presenting the research findings at the place where I worked when I came up with the idea of exploring hope and missing people. The wheel has come full circle.
The most challenging aspects of a year post-submission have not necessarily been the academic requirements. Im incredibly blessed to have been successful in gaining a full-time contract position within a week after graduating, but that contract ends soon and the bigger questions begin to swirl about 'what next?' There are so many options it makes the path a little more foggy than it used to be but if that's the worst thing, then I can live with that. My five year plan is slowly coming together in my head, it probably just needs to be a bit more detailed than 'become Brene Brown' (which really just means be a permanent social work researcher if the planets align)
The biggest challenge for me has been my shift in worldview. Something my participants have spoken about time and time again, and my counselling clients before that. When you choose a new path, or one is chosen for you, the life lessons you hold dear begin to flitter away. Im starting at the bottom of a new shiny pile in my career and Im also seeing the world in a new way because of whats happened over the last year.
My good friend, who submitted her thesis alongside me that day a year ago, has become really unwell over the last month. We don't know what will happen next but our fortnightly chats before things shifted would always centre on navigating post-phd life in a career sense not always a personal one. Now we are all suddenly plunged into thoughts about how cruel hope for the future can be when suddenly what lays head might not be possible.
When we work on a project for so long its easy to attach romantic ideas to what will happen next. I hear people say it all the time 'I just have to get to June and it will be alright', 'I just have to get to the school holidays and it will all be easier' but the virtual pause button we place on joy, or rest, or fulfillment or new endevaours means that when life reminds us that it can all change so quickly we go into a tailspin of regret for not living life as if it would all end at some point.
The universe keeps reminding me of this time and time again, so in the second year of post-PhD life Im working on a little from column A and a little from column B. A place to live my life and a place to imagine whats next both at the same time.
We need to remind ourselves that having both columns is a luxury for many. Don't waste it waiting.