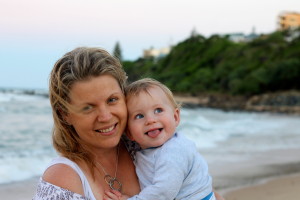 One of the ways I notice families react to the sadness and trauma is to find ways to make meaning. Meaning not only of the loss but meaning as to how they might survive it. Rachel and I connected through a shared friend last year and I noticed a few months later that she was attending a conference to talk about her pain. I worried whether or not she would be supported in her speaking up, whether it would help.
Some people turn inwardly when grief clouds them and others spread out trying to share what is happening for them, trying to reason with the unfairness of what has occured and making sense of how they might go on to live.
The other week Rachel shared an email with her community from a person who questioned her responsibility as a parent via the story of the loss of her son. I commented to her that even though people choose to share their journey it is not their role to teach empathy to others – that in order to keep muddling on you need to delete those comments that incite anger, look to lay blame and generally make suggestions about things that are well outside their own area of expertise.
We are all experts on our own experiences.
So I asked Rachel to share her thoughts on how writing allows her to heal but also how the turning of her grief to the online world can uncover the space between public and private. Here she tells her story.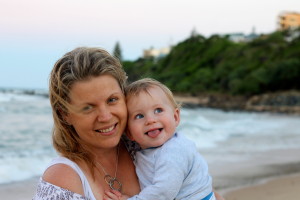 Rachel and her lovely Hami
I'm an ex-ABC journalist and producer and mother of four children and blogger at Mummy Muddles. My entire world turned upside down when my youngest son Hamish aged 20 and half months passed away in a tragic accident at home. Like any mum experiencing the loss of my child, I experience the ongoing heartache from living without him.
Without writing, I don't think I would be doing as well as I am. The pain associated with Hami's loss has been so excruitating I didn't know what to do with it. I stopped eating for a while but it became very clear to me very quickly that I needed to let the hurt out. I already had my blog, and on the night before Hami's funeral, I poured my heartache on the screen. At the time, my blog was small with few followers so it felt like a very safe place to mourn and grieve. Since that time the blog has grown and has a large and beautiful group of supportive followers and bereaved parents. Through writing, I've been able to work through my grief.  It's an ongoing process.  It doesn't lessen the pain, it doesn't fix what's happened but it gives order to the chaotic feelings I go through daily. The unexpected benefit is the beautiful support I get from the people who read it and the bereaved parents it apparently helps.
When Mamamia first published my story, I became a little frightened. Up until that point I never thought about the consequences of being public about my grief. Soon, my blog was growing exponentially and I wasn't sure I could keep up. I had to learn to take breaks and to keep some things for our family. Until recently though, I've only received positive, beautiful messages of support. I had one recent message that was upsetting, but I deleted it and concentrated on the thousands of messages of love.
Hami's accident haunts me daily. It was accidental and preventable. I will always struggle with that and I guess by making my grief public, it allows others to blame me. Then I remember that nobody can be as hard on me as I am myself.
I think bereaved parents share for different reasons, but for me, I wanted to share my beautiful son with others. He was a magnificent little human being who shone a light on this world albeit for a very short time. By honouring Hamish and writing of my grief, other parents now tell me they now hold their children tighter, give them more time and patience. What a beautiful legacy for my Hamish.
I have to make myself switch off (to manage the need to be both public and private). My phone will beep through the night with messages if I leave it on. Sometimes my husband will walk in on me in floods of tears because I've just responded to a message from another bereaved parent. He tells me to stop and remember to protect myself. I feel like I can't not respond to a bereaved parent. I know that pain. Now, I just give myself a break when I am not up to responding to every message or writing. Sometimes, all I can do is 'be' and look after my children. That's all I can do. By writing my deepest thoughts and feelings, I know I'm allowing myself to be vulnerable and I potentially open myself up to judgement. However, I know what I write is authentic and when I'm honest, I don't seem to worry so much about the consequences. I can't control the thoughts and opinions of others.  I am very wary when I include my children though. My ten year old daughter is becoming very aware of the online world and I'm doing my very best to protect them as much as I can.
I can't imagine not writing but I can see myself becoming more vocal. I love talking (you may have gathered that) and I love interacting with others on the same level as myself. I will always write, it is now a part of who I am, but I think there are other outlets for my thoughts and feelings. They won't always be public but without them, I start to feel like I'm going a little crazy.
My family keeps me going. My beautiful children give me moments of light on the darkest of days. My husband needs me and I need him. We have to unite as a family and although we grieve on different timelines, its important to stay connected. My children love Hamish and will always bring up beautiful stories.  They remember him with love and they remember to laugh. I try to learn from them.
My blog has given me a place to grieve, to share and I also feel like I have purpose, rather than floundering around in the dark. I have just finished my book and I've realised I love to write. Writing will be my saviour now and in the future.
I will always have days when I'm stuck in the chasm of grief, paralysed with the enormity of the massive loss I deal with every day. But I have to keep going for my family, so I will do whatever I need to do to survive this.
———————
Thank you Rachel for articulating so well the reasons of how connecting with the online world provides a blanket of support that can help people understand loss. My friend Ingrid once told me that…
"Life does go on regardless of how much you drag your heels against it. Survivors need to make a choice, not about whether life will go on, because it will anyway, but in how much they choose to engage in that life'.
I think thats what Rachel is doing. Engaging the only way she knows how.
Does writing heal you?