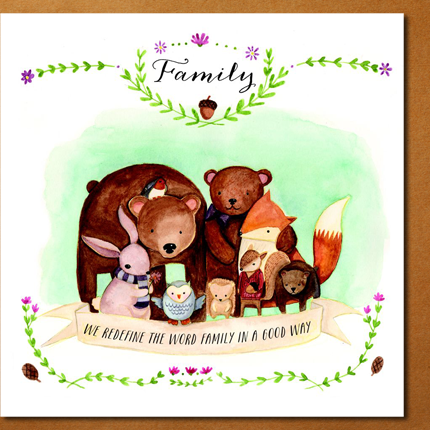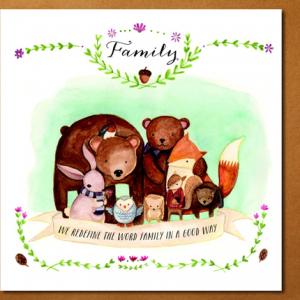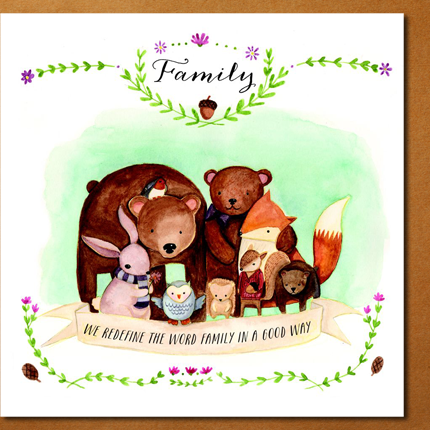 Last night I sat on the lounge room floor in my pyjamas, It was my birthday so we had a floor picnic for dinner. My 9-year-old daughter was sharing a funny story that she had heard in the playground about the birds and the bees leaving my two step-daughters and my husband crying with laughter. Our youngest boy was sitting in between us all playing minecraft with his headphones on, oblivious to it all. It was one of those moments, you know? Where you catch yourself, you stop and looking around at the faces and remind yourself that life is amazing. That the relationship you build with children you didn't birth can be transformative.
Last year when I wrote this piece that was published in The Age Nicole Lenord got in touch with me. She is the creative genius behind Modern Family Cards. Her cards mirror the situations our family often finds ourselves in. The conundrum of how to say thank you when Hallmark fails to fill the gap. So in honour of Mothers Day here is a piece about Nicole and why words can cause you to well up..
Nicole, tell me a little about you?
I was travelling down that familiar path of career, career, career in my 20's and 30's, then I had a bit of a wake- up call. I left my husband and moved to France to study perfumery for a year.
I then settled back in Sydney, married a man with two children, and we had by then created another! The five of us attended the smallest wedding in the whole of India (ours!), and went and lived in Bali to attend Green School for a time too. We travel together as a family constantly – figuratively and literally.
I now run our farmstay in the Southern Highlands, and have created a small card company with a big name: Modern Family Cards.
Whats the story behind Modern Family Cards? Where did the desire come from?
I worked in consumer research for nearly 20 years, and used consumer insights to create brands, products, advertisements and services that really meant something to their target market. So I have a researcher's perspective on things I do and see.  
Our stepson came to live with us fulltime, over 3 years ago, while his sister continued to be 50:50 between households. Plus of course, we have our little son. The background to all of this was very heartbreaking and troublesome. We were living through an upsetting experience and one night, the idea came to me – to create cards that celebrate and demonstrate positive communication for children of 'modern families'.
So I set about conducting interviews with step, blended and foster families. I learnt so much about the commonalities and of course, the differences in each family's experiences. This was a wonderfully rich base from which to build the Modern Family Cards range.
This initial range was purpose built for step kids, step brothers and sisters, step mums and dads, step grandparents, blended, surrogate, adopted, gay and foster families. More recently the range has cards that centre around the emotions of any 'modern family' – 'I'm proud of you', 'don't give up', 'I'm sorry', 'I love watching you grow', 'love you mum' etc
I didn't know anything about the manufacturing of paper products, the commissioning of artists or the sales process into retail, so it has been a steep learning curve!
Do you feel like we don't provide space to explore those relationships in life that might be typical to us but perhaps not typical to others? How did you fill that space?
Absolutely! You just have to look at the Mother's Day ads around at the moment, and you would think on Mother's Day, every women wears a soft pink cashmere jumper with pearls and cuddles clean and tidy kids (a boy and a girl) seated on beige rugs, after having enjoyed soft-boiled eggs and toast soldiers in bed – from a tray that includes a single red rose in a cut-glass vase.
This projection of a celebration ignores the wonderful aunts, neighbours and grandma's who may have played a big part in the raising of kids, the 'Mr Mums' who do it alone, the kids who have an estranged relationship with their mum, or those whose mums are absent or sick. It ignores the mums that are newly divorced or struggling to get the recognition they deserve. It totally ignores stepmums, too. The truth is, it results in a whole lot of people ostracized from the 'ideal'.
That is where, I hope, Modern Family Cards can help. The cards can help acknowledge the people in your life or emotions in your life that are otherwise ignored. For example, there is a card that just says 'I count my lucky stars that you are a part of my family'.
Another card is for newly separated/divorced parents to give their kids. It says 'You may have two homes now, but you always live in my heart'. It is very powerful, and much loved.
As many of my readers know I have 2 step-daughters and my daughter is a step-daughter to my husband. We focus on being our own family despite peoples comments about how dissimilar our 4 kids are. Having the possibility to browse cards and see ourselves mirrored back is just divine. Tell me what you hope for in providing this niche area?
As you just shared, it is sometimes the commentary around our lives as blended families that can be the hardest thing to bear:
'So does the breakup seem to have affected the kids?' (um, yes).
'So does XXX miss his/her mum/dad?' (um, yes).
'How do the kids get along?' (um, great or horrid, depending on the day) .
'Boy, you look so similar. You could almost be her mum' (she has a mum).
'How are the kids adjusting?' (um, ask them).
You slowly learn to take it on the chin, but sometimes it is hard. We learnt to wink at each other if someone called me the kids 'mum'. Or we would speak up to reinforce that Crusoe is a brother, not a half brother. That sort of thing.
I love hearing the stories of givers and receivers of the cards. At tradeshows, my stall has a strong emotional response from people – many tears are shed as people unburden their hearts about their own 'modern family' stories, people laugh at finally finding Step cards, and others just want to say 'thank you' for providing empowering messages for families to share. Some people, of course, were completely dismissive – but that isn't surprising.
God I love your words Nicole! How can people find your cards/merchandise.
Anyone is welcome to like me on facebook, learn more able the cards on the website, or purchase them on Etsy. Plus there are a lovely list of stockists all around the country on the website.
What would your modern family card say? Me?
'Thanks for being the step dad who stepped up'
What's yours?