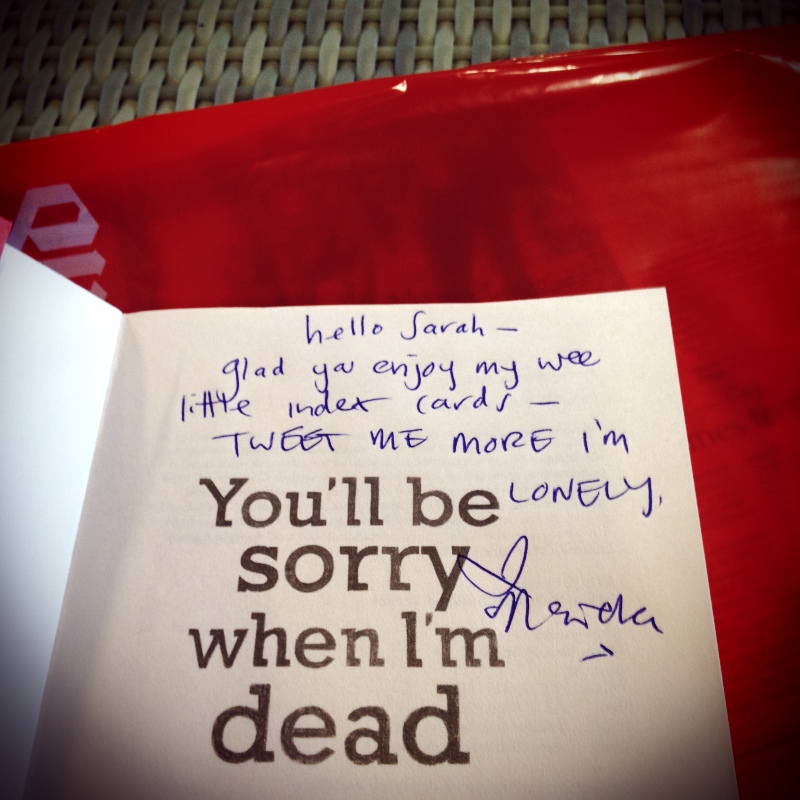 (my little signed copy of Marieke's book)
I wrestle with the idea that if I had my time again Id make my blog a private one. I wouldnt be sending links off to my family (hi mum!), Id keep my name away from it and Id use it as a record of my own thoughts and feelings without worrying how it'd be interpreted.
I listened to a session at a Writers Festival this week on the art of memoir. The art of sharing your inner most thoughts for people to read, dissect and comment on. A bit like blogging but with money and book launches and nice dresses (I have a thing for Marieke Hardy's outfits). One of the questions that came up was the challenge of the overshare – the illusion that in sharing stories some think you can get closer to others but those stories (well as far as I see it) are only one piece of a person. One piece of a big fat juicy pie. People can choose what they write, how they write it just as the reader can choose how they take the written word and how much it resonates with them.
Some days I feel like Ill run out of stuff to talk about on my blog, that I dont have any more stories that Im prepared to give away, or realistically I dont really think anyone would be interested in reading them. Dont get me wrong Im not asking for people to say 'please dont stop writing…I will fall over if you do' (because lets face it I know you all would!), but I know that everyone has their own stories – everyone has a rich tapestry that makes up their lives and the sharing of another is just a drop in that ocean.
The thing is I love that ocean. I love the interconnectedness of sharing, of hearing how other people are going, of watching people develop rhino like skins in response to the world dealing them waaaaay too much stuff. It can dangerous to  put all those stories out them all out there because you might not get invited back to a family function any time soon but not sharing would also be a sad state of affairs.
I like that my mum texts me when something Ive written sits nicely with her, I like that my Dad keeps telling me to print out my blog and stick it in a book to show my kids when they get older. Its my story, from my perspective. I have other little secret ones but their for the novel that Ill write and use a nom de plume and then get rich and then have to out myself for a chance of a second book deal and an invite to talk on Sunrise.
What boundaries do you think people should put in place when sharing their stories, do you like reading memoir??