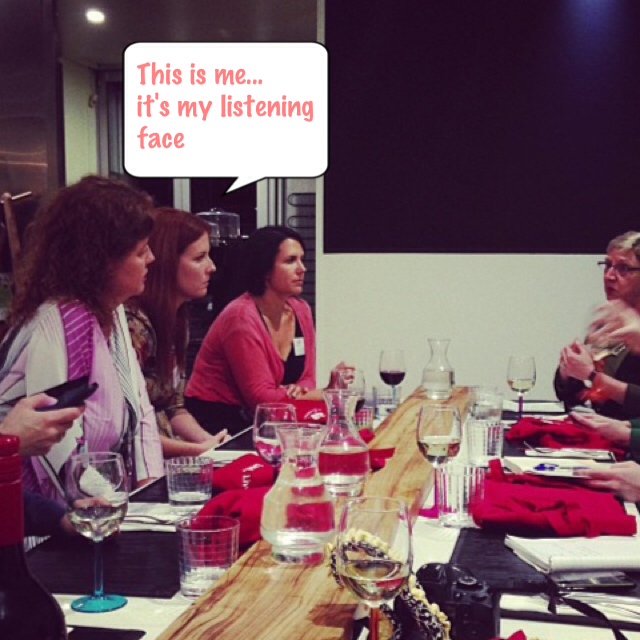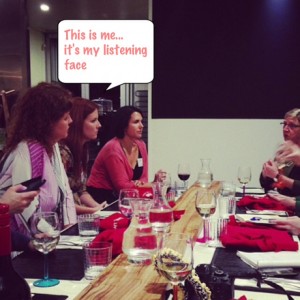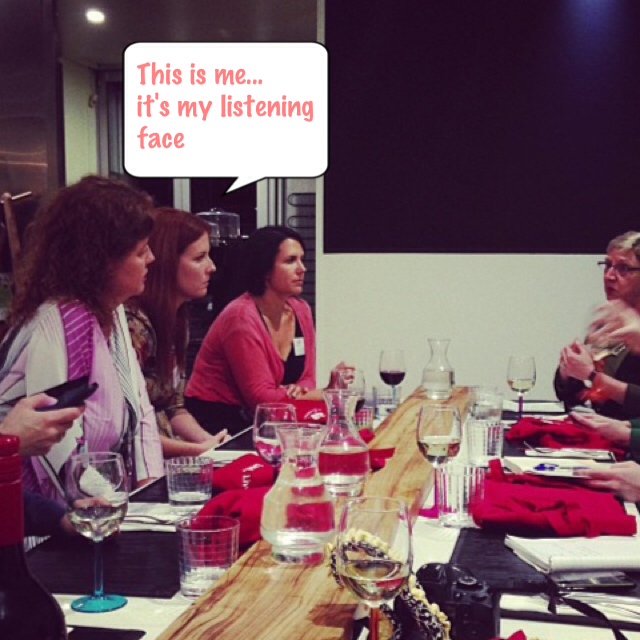 One of the ways I get attention when Im pitching stories to editors is to link an idea to something thats time specific. A community event, an anniversary, a day set aside for some reason or another. It helps to match the idea with the words if the reader can circle a day in their calendar. That community calendar seems to be filling up. Days to wear yellow, pin pink ribbons, walk to school, ride to work, sleep upside down.
Ok, maybe not the last one.
Smack bang in the middle of the school holidays I found myself perched on top of a stool listening to some sobering facts about women and and health. We talked and ate and cooked and talked. All the ingredients for a good night out. Wine included.
The Heart Foundation  hosted a meetup with a gaggle of bloggers at Sydney Cooking school to talk about their Go Red for Women Campaign and Heart Week. The thing is I when I think about heart disease I think about old men with big bellies, I think of kids born with congenital heart defects and images of their worried parents; I don't think about whats in between. It's women. Heart disease is the number one killer of Australian women.
As I wriggled on my stool trying to digest those facts I listened to Dr Lyn Roberts National CEO of the Heart Foundation and a woman after my own heart. She finished her PhD and lived to tell the tale. She wasn't talking about that to the group she was talking about the ways women can reduce their risk by taking simple steps to prioritise their bodies.
This year has seen a lot of women come through my counselling practice exploring life, their relationships and their emotional health. The pressure on your body in managing anxiety and stress is not only etched on their faces but from the inside too. I was watching a mum on instagram the other night, a mum who had seen a lot of grief over the last year, share images of her quick stay at her local hospital after having chest pains at work. As much as she felt like a bit of a goose for heading there the women that supported her online all pointed out that the action of putting her health first was something to be congratulated.
The pain of life can sometimes make you feel like your heart is broken. Double checking it, literally, is something we all need to think about.
So what did I learn? (other than how to cook a piece of chicken by rolling it in gladwrap, popping in some veggies and popping it in a simmering pot) I found out that the Heart foundation is urging women to:
– Learn more about reducing heart disease by visiting here

– Visit their GP for a Heart Health Check

– Know and understand the risks and signs of a heart attack

– Follow them on Facebook and just generally up-skill themselves about the fact that every two (2!!) hours in Australia a woman will die from a heart attack.
So in a sea of other days of community messages that sometimes get filtered out perhaps going Red for the Heart foundation is something that we might want to circle.
Not for one specific day but for always.
Have I been living under the stairs like Harry Potter? Did you know this statistic about women and heart health?