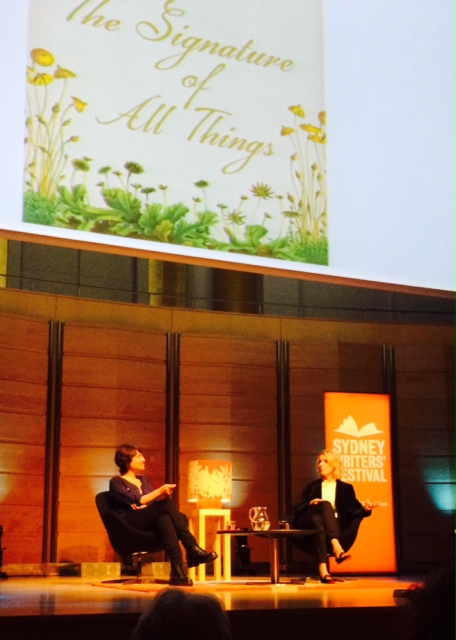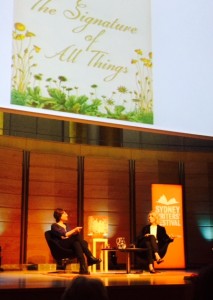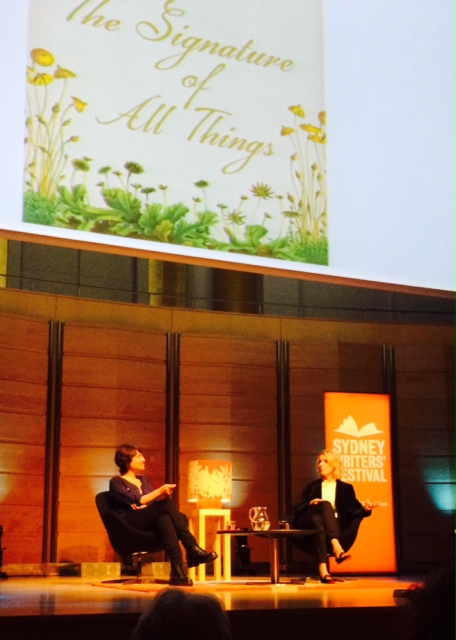 My desk is a afloat with post-it notes. Ideas for articles, short sharp lines that might be useful for my thesis, action items that remain unactioned. They act like tumbleweed – blowing past my desk, curled up and yellowing from their jar near the window. Sometimes I wonder if its best to bin them, scared they wont make sense when I glance at them again. What if the magic is lost.
I heard Elizabeth Gilbert talk in Sydney last night. A 90 minute rollercoaster of warm words that spoke to my heart. I kicked myself that I didn't remember a pen for my notebook, stolen from my daughter as I ran out the door.
Liz spoke about creativity – the art of embracing who you truly are while engaging in the whimsical magic the world has to offer. I sat there watching, drinking in her ideas, gazing around the mostly female audience and looking down at the inside of my daughters notebook. She had scribbled lists of who had been naughty and nice in her Year 2 class. Her clunky, misspelt words written late at night when I thought she was sleeping. Her mind whirring with thoughts. Those deafening thoughts that I know too well. Mine are circling just two rooms away the moment my head hits the pillow.
As I walked my daughter to school yesterday morning – hand in hand with her and her brother we talked about spider webs and divorce. She keeps me on my toes with her thirst for knowing. She wanted to to know what it felt like to care for someone and then not care for someone. Its a narrative she has about my ex-husband and I. That one day we loved and the next it was gone. Her space in between big love and loss. She wanted data – just like her step-dad – about when that day came. So I answered as best I could weaving a story around who we were as a family – eager to answer a question from the past with a thought to how she might live her future. Telling her how my biggest mistakes provided the most opportunity. For me.
I thought about the bookends of my day when I woke this morning. Of the wonky conversations in the morn and then the joyous ones observed later that night. Of my girl at one end and Liz at the other. Intrinsically linked not just by blonde curls and great words but by the shared message of creating spaces to be who we truly are. I stared at the notes on my iphone (quickly typed so as not to bug the twitchy lady next to me) the ones I wanted to remember – to capture what I know now, what Liz said and to show my girl. In one space, here…
Watch out for the signals and do something with them when they arrive. In life, in work, in love.  A rich and meaningful life can emerge from those times when you feel the most lost. Grab them and Ill run alongside you. Or behind you.
The world is swirling with ideas. Let them find you. They might sound silly, you might not completly understand them but if they keep yelling at you answer them. Please.
When you're striving for something that means the world to you its normal to feel jealous or resentful of the people who you think have made it. Sit with that feeling but dont let it consume you. Be humble in your praise but back yourself as well.
When life throws a curveball at you your passion wanes. Look after yourself first – your ideas will come back eventually. Trust me.
Don't be afraid to catch yourself in a moment and realise that you're not living the life you want. You're own mum found herself in this space – wondering if you and I would be able to find our place in the world together. The conversations that you have with yourself, late at night, with mascara smeared across your face are the most authentic. Don't be afraid to have them.
Your life is not defined by the bad stuff that happens. A woman in her eighties once told me that if she lost her joy, because she had lost her husband, then that would be two tragedies. Share your stories of sadness but share the good ones too. Both can shape the people we become.
When you work out who you want to be the hard work starts from there. Liz says it wont always be fun, it won't always be easy but if you're doing the stuff that feeds your soul and feeds your bank balance then good can come. And if it doesn't Ill lend you $50.
I wanted to stand up at the end of Liz's talk last night and ask her but how do I do it? How do I fit it in with all the kids, the work, the deadlines, the dinner that needs to be made each night? but I realised that in pointing out what would stop me from doing the good stuff only gets in the way of who I want to be.
So when my research comes together, or when I write someones story or I learn something about myself, or I meet a group of people and think 'these people are exactly like me' Im going to listen out for the magic thats wafting down right at that very moment. They're all stepping stones to the destination.
If you'd like to listen to Liz's ideas on creativity watch this talk. She is talking in a few more places over in NZ before she heads back to the other side of the world.
Do you listen to the ideas when they come and find you?