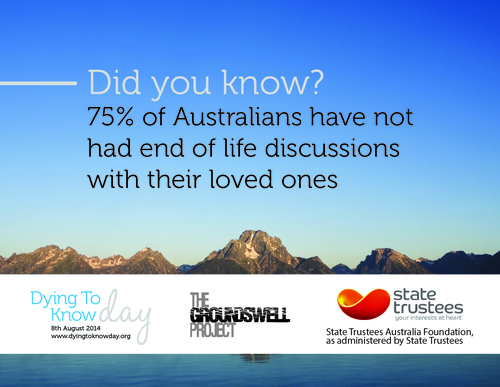 For a person that exists (for most of my work hours) in the realms of here and gone the idea of losing anyone around me creates fear-inducing, panic-ridden hysteria. I practice gratitude each day in the hugs I steal from my kids, in making sure I stop what Im doing and give my husband a big kiss when he gets home and in checking in with my friends and family when they need me.
I'm incredibly blessed but underneath the happy sits the fear. Always.
August 8 is Dying to Know Day. An initiative by the Groundswell Project around death, dying and bereavement. About talking up about the eventualities of this tapestry-woven life that we live and having those hard, yet engaging and illuminating conversations.
Throughout my career Ive learnt a lot about the pain of others. Standing and speaking at the most recent National Conference on Grief and Bereavement I realised that there was shimmers of gold shining out from beneath the open and honest conversations we were having as researchers when we talk about lived experience. I wondered what it might be like to beam those conversations to the streets outside, for the rest of the universe to hear what works well and what doesn't for people living between life and loss. We often keep so much for ourselves when we exist in the towers of academia – I wonder if we had a chance to include those chats about resilience and life plans how that might demystify the end. How it might teach our children about the complexities of life by being open about death.
There is a safety for me in sitting and staring at these concepts from my little computer or from my bulging data spreadsheets. Maybe thats my way of keeping the uncomfortable away.
What about you? What are your ideas of conversations about dying…do they come easily to you?
Link up an old or new post below and spread the word about this great initiative.