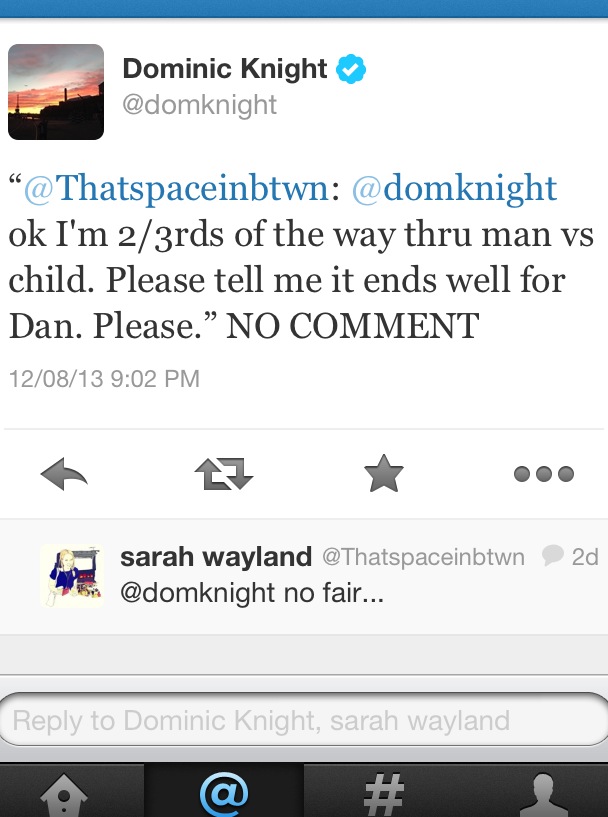 One of my closest friends in the worlds is having a baby. It's her first whereas Im coming up to celebrating eight years existence in a world that offers more questions than answers each day. Parenting small people is like herding jellyfish. Just when you think they're following you they float off somewhere else.
Random House sent me a copy of Dominic Knights new book – Man vs child – to review. With my trusty kindle I read it over the weekend and what was I left with? A whole stack of notes and highlights and a tweet to him…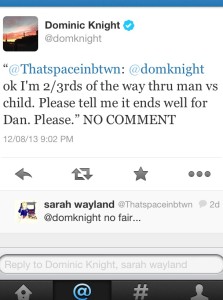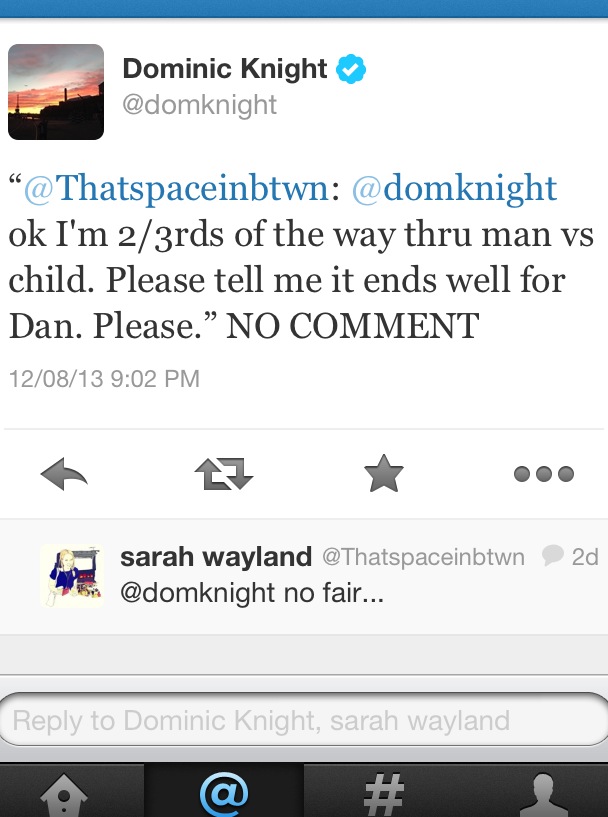 God bless social media and quick access to authors.
Sometimes I think society reserves women the right to pre-parenthood angst. Angst as to when it might happen, how it might happen and with whom. Dominic's book made me stop and remind myself about every five pages or so that it was a man echoing the same thoughts I'd heard from girlfriends and myself over the years. Not just about the elusive B word but to relationships as we navigate our thirties (I've decided that 40 is very far off).
One of the most vulnerable things you can do is put yourself out there after a divorce or a break up. The space between our single selves and the possibility of a relationship can seem vast. Staring at a woman and young child at his local Sydney coffee shop Dan, the central character of the book, tries to imagine a time where this image could be attached to him…
What if she was my wife and that was my child? I can't even imagine it, there are just too many steps between where I am and where she is'
That in order to make a go of a relationship something and someone has to stick around. The book traverses between the highs of career and that space where you know that a relationship is in a grey area – a should you stay or should you go area.
I loved the book, I read it fast, the pictures were vivid in my mind and I genuinely wanted to sit in the coffee shop where a lot of Dan's pondering happened. It was a good reminder to go back to those great books with a strong male narrative that not only provided insight into the other side of the story but to the similarities we all have in the process of finding our way – kids or not. On a personal note it reminded me that my great mate, who will be ready to pop soon, has sat next to me for years where I've waffled about the minutiae of single parenting, of re-partnering, of becoming a mum again. Where Dan suggests in the company of a couple newly parented 'I don't really need to know this stuff…but they're a pair of ancient mariners – theres no stopping them once they've started'.
Im sorry my friend…but in return Ill stick around and listen for you.
For more information on Man Vs Child click here 
What was the last great book you read?