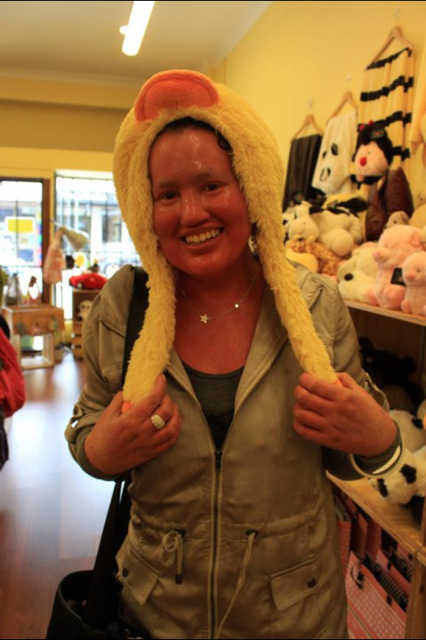 The first thing I noticed about Carly when I started following her on twitter was that she was one of those people that cooked great food for herself, I was a little jealous of the
meals she posted each night, they were cooked with love and thought and balance.
Im guessing that tuna surprise doesnt make an appearance in her house?
Carly has a blog that takes her places, she goes to blog events, she talks to people on
other forums and she raises awareness about what it means to be her, what it
means to be a woman and what it means to identify as a person with a
disability.
Sit back, grab yourself some comfort food and have a read (and then pop over here
and like her page)
Carly, tell me a little about you?
I am a writer and community TV presenter. My day job is working at the
government in communication and events. I now live in Melbourne – I am
originally from near Albury, on the NSW/Victorian border. I love seeing live
music, fashion, writing, cooking and eating. I'm currently doing my thesis for
my Masters of Communication. My thesis is on blogging and the way it helped
shape my identity.
I've had this blog, Tune into Radio Carly. for nearly 2.5 years. I've
had a few blogs over the past 12 or so years, but it's this one I've taken most
seriously. I have been able to practice and refine my writing and story telling
skills. It's given me so many opportunities – freelance writing (for the
Victorian State Government, MamaMia, The ABC's Ramp Up and The Hoopla, TV work,
band reviews and interviews, speaking events, many friendships and some really
exciting work with companies shaping people's attitudes towards appearance.
Very soon I am going to London for a conference about appearance and doing work
experience with a company called Changing Faces. I will then go to New York for
the BlogHer conference. So. Freaking. Excited!
I also have a life long genetic skin condition called ichthyosis form
erythroderma – meaning scaly red skin. It is painful and itchy and I have spent
lots of time in hospital – waiting for dermatologists as an outpatient and as
an inpatient.
More information about ichthyosis can be found here: http://carlyfindlay.blogspot.com.au/p/what-is-ichthyosis.html
 Whats the space between your ichtyosis and you…do you see yourself as
Carly first and then your skin condition or is it all blended into one identity
of you?
I would like to think I am more than the girl with the red face. It
takes a lot to prove that I am more than that. Maybe that is why I push myself
so hard. But I have come to accept my condition and be happy with myself –
thanks to very supportive parents and strong friendships formed after high
school. I came to recognise it as a chronic illness when I mentored young
people in a program at the Royal Children's Hospital, and I also identify it as
a disability. While it does stop me from doing a few things, it doesn't stop me
from having a fulfilled life. Blogging about my illness has definitely made me
think about my ichthyosis more – especially the way others react to it and
wider disabilities and chronic illnesses.
I am able to have a laugh at myself and I hope others are comfortable to
do that too.
What made you want to start blogging about you and your life experiences?
I've wanted to educate people about what it's like to look so physically
different. In the street people see my red face only, and don't take the time
to look past that. They will judge me on being sunburnt, stupid in the sun, a
victim, or a freak show. They dont know the extent of this condition. But
writing a blog enables people to get to know the real me.
They can read about the pain, the good things ichthyosis affords me and
the ignorance I encounter, plus all of the other elements of my life – food,
bands, fashion, heartbreak and humour.
My blog also helps educate people with ichthyosis and also parents of
children with the condition. I've had many parents tell me my positive attitude
has given them hope for their children's future.
The best part about blogging about my illness is that people feel
comfortable enough to open up about their own struggles and achievements. I
receive such lovely comments from readers who tell me they have been inspired
to be more open and confident about their illness or disability, or that I have
helped them in some way. I had one reader write to tell me I've helped saved
their life. That is a big privilege.
I've had readers email me to tell me they've shown my blog to their
children to teach them about diversity.
One of the most exciting things to happen was receiving an email from
the wife of my idol – Callan Mulvey (actor – Underbelly, Rush) – who told me
she and Callan read and love my blog!
Whats the biggest challenge you face and conversely what makes do you learn from those challenges?
The biggest challenge is being judged on my looks alone. As mentioned,
people make assumptions about me, and don't take the time to get to know me. It
can make it particularly hard when meeting men.
However looking so different has its perks. I'm remembered and noticed.
I have been able to influence people and build great networks. Celebrities have
remembered me and that's really nice. At the Kings of Leon concert last year I was spotted to be having an awesome time and their official security
gave me a heap of stuff – guitar picks, drum sticks and a setlist. Their head
of security found my blog and left me a comment saying that they saw my
fabulous smile in the crowd. 🙂
You take the most lovely shots of the food you make for yourself – what
do you get from cooking (and can I borrow some of your expertise)
Thank you for the compliment! I love to cook – it is relaxing and I
prefer knowing what I am eating by cooking my own meals. I always cook enough
to have for lunch for at least one day. I am a creative person but not very
good at craft or music, so cooking and writing is a way for me to produce
something I'm proud of.
I also love to eat out and I'm so lucky living in Melbourne with access
to a great range of multicultural cafes and restaurants.
Thanks Carly…I guess what draws me to people like Carly is her willingness to stand up and show who she is whilst not defining herself by what she might endure. What do
you think makes a person be able to bounce back and see the challenges and
opportunities that come from the tapestry of life…