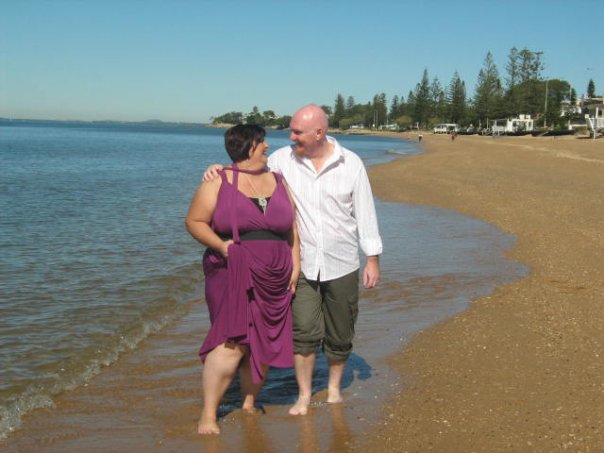 November 15, 2011
—
Sarah
Sonya answered my call when I asked if people were interested in sharing their story with me after Alicia's lovely, honest reflection of her life without her sister a couple of weeks ago. This is our third TSIB interview….it also reminds me of a story I wrote for the Hoopla a few weeks ago…if you know someone who is caring for someone reach out and see what they need – a little might go a long way.
Grab a cuppa (or a wine) and settle down and have a read of Sonya's story. I don't usually include pics on my blog as I like people to explore the story in their mind but I think a reminder for Sonya (and those that know her) of her and her husband at a different stage in their life might be nice…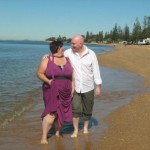 Sonya…tell me a little about you?
I'm 36 (well 37 in a few days!). I'm a born and bred Queenslander. I grew up on the sunshine coast and still live here in beautiful Glasshouse Mountains.
I'm married to Steve, 42 years old, the placid, quiet ying to my out there, loud yang! This is a second marriage for both of us….and a second go at life too really. We have been married 2 1/2 years now. Between us we have 4 beautiful kids that we're both very proud of. Steve's two boys are the older kids…22 and 20. And then there's my son who's 12 and my daughter 10. They are all good kids and keep us busy and grounded for sure!
I love being a mum, but have also worked in childcare and aged care. I know, the two ends of the spectrum right? But not so different some days! I gave up my job 2 years ago to care, fulltime, for my husband. I felt very guilty about that at the time and sometimes still do. I felt defeated. Like I should have been able to keep all the balls in the air….being a mum, wife, carer and work all at the same time. But in reality I was struggling and coming apart at the seams. Surrendering, and cutting down my responsibilities really saved me.
Tell me about your husband – can you share the space between the man you married and the man you now care for?
My husband Steve is one of those guys….you know, the romantic type that you always hear about. The guy who would rub your back every night before you fell asleep, leave love notes around the house and surprise you with random but heartfelt gifts. He's also a larrikin…a bit mischievous! Loves to joke, and play jokes! He's the guy you see kids and animals and the elderly gravitate too…there's just something special about him.
At least, that's how it was. I still see a glimmer of that guy every now and then. But, my once strong, full of life hubby has trouble even dressing himself these days. We don't know why….after 2 years, he is still undiagnosed. It started with severe lethargy and migraines. His red blood cell count dropped dramatically and he had blood transfusions every 2 months or so for some time. These days his red blood cell count is good….but other symptoms have emerged and worsened. He suffers severe pain, lethargy, stiffness of movement and now days, signs of dementia. He struggles to comprehend things….this guy, who once could talk your leg off about quantum physics or astronomy….doesn't even know what day it is and struggles to make the simplest of choices.
So my knight in shining armour….the families 'go to guy' ….is reliant on me for almost everything. For him, this is most frustrating. He has often said to me that he feels like he has lost his identity. His role as provider has been ripped from him, and he doesn't know why he is even here anymore.
Watching him go through this has been literally heart breaking for me. I'm torn between my own grief, of wanting the man I first met back…and the guilt I feel over the fact that I know he is trying so hard to be that man and it breaks him a little more each day that he just can't physically be who he was. I feel alone once more and responsible for our kids and his well-being. There's days were the weight of this is immense. Where I feel like I can't breath.
As a wife, its really hard. We sleep in separate rooms now. Its just more practical. And our days are full of menial tasks and Dr's appointment. I can't even remember the last time we went out for dinner. Making all the decisions without my best friends advice is really hard too.
Plain and simple….I just desperately miss him!
 Did you actively make the choice to swim rather than sink – has resilience always been the way you've chosen to respond to life's challenges?
 I think so? I've always been a pretty practical person. I know I hate sitting on the fence, so it has always been a pretty straight forward, black and white choice. You either kick your way back to the top for a gasp of air…or drown! Drowning just never seemed an option. Although I will admit to coming close sometimes…to feeling like my hands were tied and I just couldn't paddle to the surface.
In those moments I learnt the only way to float was to unload some of what was weighing me down. Simplify my life! Prioritise. Look inside. Focus on me, my family and my home. Of course my good old friend guilt would always arrive. But when things are desperate, you have to push past that!
Some days the voice in my head reminds me of Dory, the forgetful blue fish from finding Nemo…singing 'just keep swimming, just keep swimming, just keep swimming' ….I know, its weird but it was a better voice to hear then a negative one!
What would you say to other women caring for partners – what have you learnt along the way?
First of all, I would say hang in there! I know its tough and its really hard when you can't see the light at the end, or even know what's coming around the corner and learn to get selfish! The good kind, of course!!
Get rid of responsibilities that weigh you down. Now is not the time to volunteer at the tuckshop or p&c if you're not up to it!
Focus on the now. Focus in at you and your families needs. Start off with the little things and build on them. A strong and organised household makes a firm base to build on. Then bring in some joy. It's so much easier to enjoy things when you make your home your safe place. Then, take guilt…gag him, tie him up and kick him out the door!! He will come back again and again, but keep throwing him out! And remember, you don't owe anyone else an explanation!
Much like a new mum….where everyone is telling you 'feed the baby this way' or 'don't burp him that way'….it can get very overwhelming and having a simple cuppa with someone can leave you walking away questioning everything you are doing for your loved one. Remember, advice can be useful and learning is great, but you know deep down how to implement these things for your own family….don't feel guilty about that. And accept help where its offered.  My stubbornness has got me through a lot but has also been my own worse enemy. I've had to make a conscious effort to accept help when its offered…and it really can help lighten the load.
So, now you have a strong base, you've simplified life, kicked guilt to the curb and politely taken others advice or offers of help, but have modified things to suit your own family…now, you take time to remember the little things….how nice it is to just sit and hold hands. Make a conscious effort to set time aside where you hang out and bond together as a couple and a family.
And of course, remember me time!! Find that one thing at least that can relieve your stress levels. And whatever it is, make time for it!! And know that its ok to have a bad day. Its ok to have a day when you let all the yucky feelings rise to the top. In fact, wallow in it!! I do! Create your own pity party…let it all out. Then wrap those feelings up and throw them out the door, next to guilt, and get up the next day and keep going.
What other spaces have opened up in exploring 'this' space in between?
I just want to address living with an undiagnosed illness as I know there are so many people living in this space too.
It's a bizarre situation to find yourself wishing for the Doctor to tell you your husband has ________ (insert here!!!). But the truth is, whatever it is, he has it! Whether it's treatable or life threatening… We want to know. So we can treat it…. Or set our minds and lives up for what lies ahead. Right now, all we can do is sit in the public system and Wait… Wait… Wait. And hope that when we do find out, there is still time to treat the illness and enjoy the rest if our lives together.
If you are experiencing anything like my family is… I'm here, now, saying I understand. You are not alone and just because you can't name your condition doesn't mean it's any less relevant…. You still deserve to have a voice!!
If you are lucky enough to have a healthy family but know a family dealing with an undiagnosed chronic illness, don't forget them. Embrace them as you would any other family struggling with chronic illness. Not having a name for it doesn't change living with it everyday…..
Thanks for letting me share some of my journey…and remember people… JUST KEEP SWIMMING!!
—————————-
I'd ask people to share this interview around with those living with chronic illness, chronic pain, undiagnosed illness, multiple caring roles or just people thinking about what resilience might look like (just click below…)
Thank you Sonya…I know its not always about getting the answers to your questions but in time I hope you can resolve some of the ambiguity that you're living with