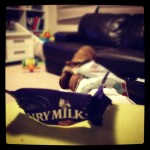 I wrote a piece a while back for Childhood 101 and it was published this week. You can read it here.
I felt a bit anxious when I saw it actually in print (well on the screen) as I was worried that I'd done the overshare…that I mentioned too much about stuff that was packed up and popped under the bed. It fitted there quite nicely, there was no point bringing it out again. When I read it I panicked because I didn't want to mention 'mistake' and my family in the same sentence. A wise friend once said to me that I shouldn't write anything that I would want my kids reading when they are older that makes them see something about their arrival in a bad light, I want to protect my babies from everything.
Last week we decided to sponser a little kiddie after reading about Edenland's trip to Africa…it was bloody hard to skip through all the pictures of kids that looked like mine, just with different clothes and smiles that weren't as big. We settled on a little man that was the same age as our youngest and we now have his picture on the bookcase. The girls all looked at his stats, where he came from and what sort of family he had. We looked at the country he lived in, worked out how far it was from our home and then worked out how he'd fit in our lives.
I have a terrible habit of finding humour where there really shouldn't be – I blame my Dad. Within 3 hours of the little man's picture turning up I blamed a lost sock on him, which then led to my step-daughter blaming the last scoffing of the chocolate on him too. Its like he's in the house with us now, we set a place for him at the table, make room for him in the car and use his name through most of our family chitchats. Its like his picture has come to life.
I try really hard to make my kids aware of the world, to show them the mistakes while protecting them, to make them accountable and then some days I act like a 5 year old. Nothing like teaching your kids the power of mixed messages.
I'm glad the little man is now part of our family – I'm hoping we get to hear about him grow, we hope he stays safe and in some way hope that the small part we play makes a little difference to the life he gets to lead.
I also like that his little face fits nicely amongst the others that line the shelves of our home…
Do you find consistency a drag? Id go bonkers if I had to do the right thing in front of the kids all the time.