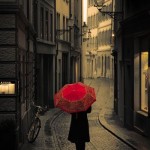 Some days the vision is far more clear than it is on others. Some days the thoughts get muddled by the mundane chores that come with small people – the constant preparing, planning, driving, dropping off, picking up, teeth brushing and then the inevitable collapse on the lounge safe in the knowledge that they will have to do it again tomorrow.
But on the days where there is a space to breathe the vision becomes crystal clear. There isn't a mad rush to the airport, an online boarding card in hand as you run with your coffee to the closing doors. This time they arrive early, wander through the shops with overpriced pashminas and a chance to grab some terrible chick lit that while drown out that awful hum of the plane engine as you fly over vast chunks of sea. They look at each other, a quick smile, a shared excitement of what lay ahead.
He sleeps for a little while, she fidgets but not in an anxious way just one with anticipation for the break they've been waiting for. They met as exhausted single parents back in their thirties. There wasn't a chance for weekend aways, long breakfasts or romantic interludes. It went straight from romance to routine but it wasnt something they begrudged it was just a reflection of the life they had led before their life led them to each other.
The next morning as they stumble off the plane and out of the airport eyes gritty from the dry air and the carb rich food served in little trays they hail a cab. It takes to them to the little boutique hotel with a cobbled courtyard that promises syrupy coffee and pastries for breakfast and lots of short strolls to places they've only read about. They slowly unpack – head out in the dreary rain, ducking and weaving through laneways and narrow streets watching the people ahead of them in their coats and umbrellas. Postcard images.
They take a breath, look at each other and find that this is where they begin again.
This week Im linking up with A Life Less Frantic...pop over the have a read x