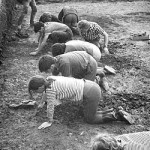 Image from here
I was at work the other day, in the middle of a meeting, and I suddenly had a flash of the old me. It was like I was on an archaeological dig excavating a site that hadn't been stepped on in eons, with a small brush in my hand I slowly swept away the sands of childbirth, toddlers and school runs and uncovered a Me just below the surface.
It was a funny feeling to trust what came out my mouth. To hear my voice on the outside of me, the one that made sense, that had a memory and that sounded like I knew what I was talking about. I thought about it for most of that day, all the way up to bedtime. I told my husband about it. Im not sure I was looking for any feedback I was just a little shocked that it was there and I hadn't really gone searching for it. I liked how it felt because for once I didn't have a small person wanting my attention, I had clothes on that didn't consist of birkenstocks and shorts that were too baggy around the ass. I was just me.
The hard part of negotiating a foot in both camps is that you never really feel like you're on top of either. Too long in the home camp and playschool songs send you loopy, too long in the work one and you only get to see your kids between daycare and exhaustiveness…call it arsenic hour, call it shove chocolate in your face in secret in the pantry o'clock but it isn't the quality mother child time you're after.
The balance is different for everyone but every once in a while when the light shines through and you say hello stranger to yourself you can pat yourself on the back that despite parentings ability to consume your life you remember that the you you've been searching for has been there all along.
It is (even if its a bit sandy)
Have you had an archaeological discovery lately?